As with the recent results of Root Insurance, the way you view the results of Lemonade depends on whether you are a half-empty or half-full glass.
Lemonade increased its customer base to just over 1 million 56% YOY and subsequently increased its ongoing premium to 213 million dollars 87% YOY. They attribute this to a shift in the product mix away from renters towards a mixture of homeowners and pet owners' insurance. In 2019, they reported that about a quarter of their ongoing premium was not renters. It now amounts to up to a third of all ongoing premiums. Simply put, renters premium reflects about $143 million and Home / Pet represents the remaining $70 million ongoing premium. In the fourth quarter of 2020, they wrote $24 million in new premiums, including $9.6 million for Home and Pet and the remaining $14.5 million for renters.
Growth
Looking at customer growth, it is largely declining year-on-year: in 4Q2020, customer growth was only 6.3% compared to 15.6% in the previous quarter, and 12-month growth declined from 67.4% to 55.6%. Average premium per customer continued to rise quarter-on-quarter and from 12 months to 12 months. At the same time, losses in real dollars continue to increase, now to $122 million in 2020, and they forecast a loss of about $170 million in 2021.
In their annual letter, they point out that the average premium for homeowners is six times higher than the premium for renters when a person stays with them and buys a house. Furthermore, they point out that pet insurance adds three times more premium to a single policy. If we assume an average premium for renters of $155, which is slightly higher than what was reported in the 3Q2020 shareholder letter, they bring in $465 for a pet policy and $930 for a homeowner policy.
These average insurance amounts allow us to estimate the distribution of customers by product type. It is very clear that Lemonade is still a renter insurance company and over 91% of its customer base consists of renters.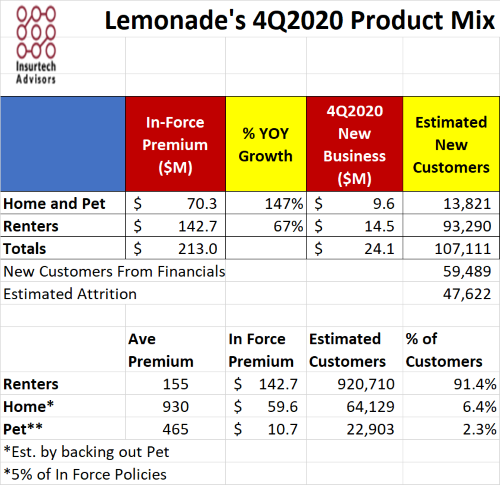 Retention
They gained a net 59k consumers in the fourth quarter. However, if you take into account estimated customer growth based on the new premium and the average insurance amount, they seem to have gained over 107k consumers, which means they lost about 48k customers in the same quarter. In other words, for every second new customer, they lost one customer last quarter. In addition, they point out that a multi-product customer only improves dollar retention by 10%. They will need to improve their retention efforts to drive down customer acquisition costs.
Customer Acquisition Costs
In the fourth quarter, customer acquisition costs more than doubled from the previous quarter to $385 per customer, the highest level they have reported to date. Balancing this is offset by the fact that they are now spending less than $1 to bring in a dollar of premium. These costs are still too high to drive them to profitability, and if their CAC for their new term life product is roughly the same, they will have difficulty getting this product to be profitable.
What can a traditional Carrier take away from these results?
IBIS estimates that rental and condominium premiums for HO4 and HO6 in 2020 were $3.8 billion. In 2020, Lemonade wrote about $100 million in new premiums for a total in-force premium of $213 million, including $143 million for renters policies. Lemonade's market share reflects only a fraction of a basis point of the U.S. rental market insurance. So if you are a legacy carrier, you are still at the wheel. However, if you are a smaller regional carrier in a state with a lot of renters, you could expect a slowdown in your growth rate, especially for your renter's product.
Nevertheless, there is still work to be done.
You need to keep your eye on what they are doing for product launches and publicity hype. This will help you understand where they believe the market is essentially going for younger buyers.
You need to learn where they are investing and what changes they are making to their consumer acquisition funnel and approach, and how they deal with and decision claims. Here, they have developed skills that are starting to bear fruit.
You must keep a critical eye on your current product roadmap and technology investments to ensure that you continue to invest in the areas that matter to your consumers, agents and servicers.
About Insurtech Advisors
Insurtech Advisors is dedicated to helping regional insurance carriers and agencies find and partner with Insurtechs enabling you to thrive and continue to meet the needs of your members and independent agents. We work closely with your team to identify opportunities and aspirations and then personally curate and introduce you to the best Insurtechs to pilot.
Kaenan is a professional in the areas of block chain, telematics, wearables, analytics, artificial intelligence (AI) and Insurtech.  He has played a key role in innovating many start-ups and established carriers. His advice has been widely appreciated in the financial community, which resulted in multiple quotes and publications in various media.
Most recently he was Practice Lead for Innovation, Fintech, and Strategic Insights at EY.  Throughout his career he has held leading roles within Marketing Strategy and Decision Management with top Insurance, Banking and Finance companies, including USAA, Citibank and Sallie Mae.